Amanda Wasn't Forgotten Thanks to You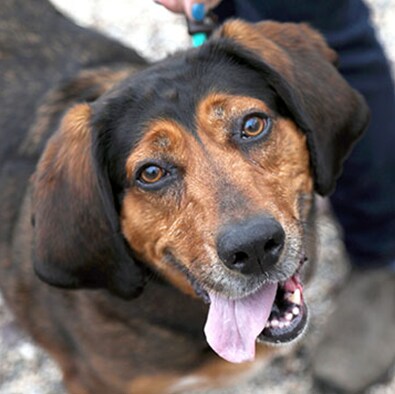 From the looks of her, you might have guessed Amanda was a youngster. She was a good weight (maybe a little too good). She'd make friends with you in one second flat, and she had a pep in her step. But the hound/shepherd mix was actually a few months shy of 9 years old.
Pets who are advanced in age typically come with medical conditions, just like we all do as we get older. And next to irresistible faces and tiny yips of puppies, seniors don't always grab the attention of visitors looking for a new furry family member.
However, at the Connecticut Humane Society, none of that mattered when Amanda arrived. Because generous friends like you allow the medical department to be ready for anything and for pets to stay as long as they need. At CHS, senior pets like Amanda aren't forgotten. Amanda still mattered.
A rubbery-looking mass that was about the size of a small apple and hung from her elbow would need to be removed, and her ears were painful and messy. And she could slim down a bit. Luckily, Amanda proved to be a grateful patient in the medical department, wagging her tail and giving a silly grin to everyone helping her feel better. She even gobbled up the fruits and veggies that became her new "treats."
CHS veterinarians healed Amanda's uncomfortable ears and surgically removed the mass. Soon, she even weighed in at a healthier size. She was ready to go make a case for senior pets on the adoption floor.
She made new friends in no time, and by that afternoon, had them wrapped around her little paw. Amanda's new parents took her home and have nicknamed her Mandy.
Pets in need deserve hope for the future, whether they're 9 months old or 9 years old. Thank you for giving second chances to senior pets like Amanda.
For the pets,  
Gordon G. Willard
Executive Director
Connecticut Humane Society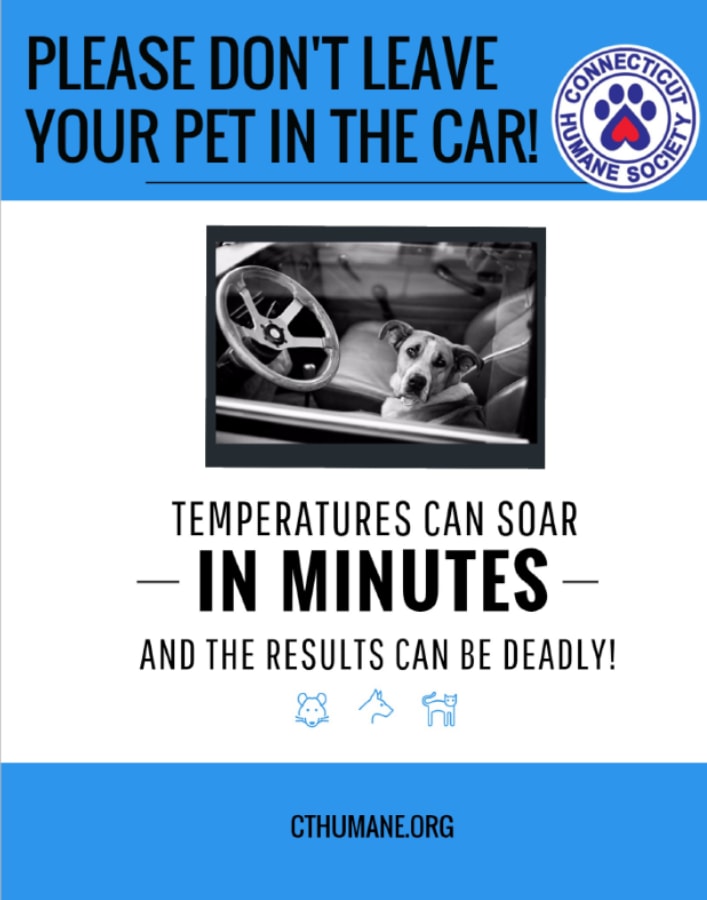 There are so many things to love about the warm weather. But pets stuck in cars is definitely not one of them. Spread the word, see something/say something, and keep your pets with you or at home.
---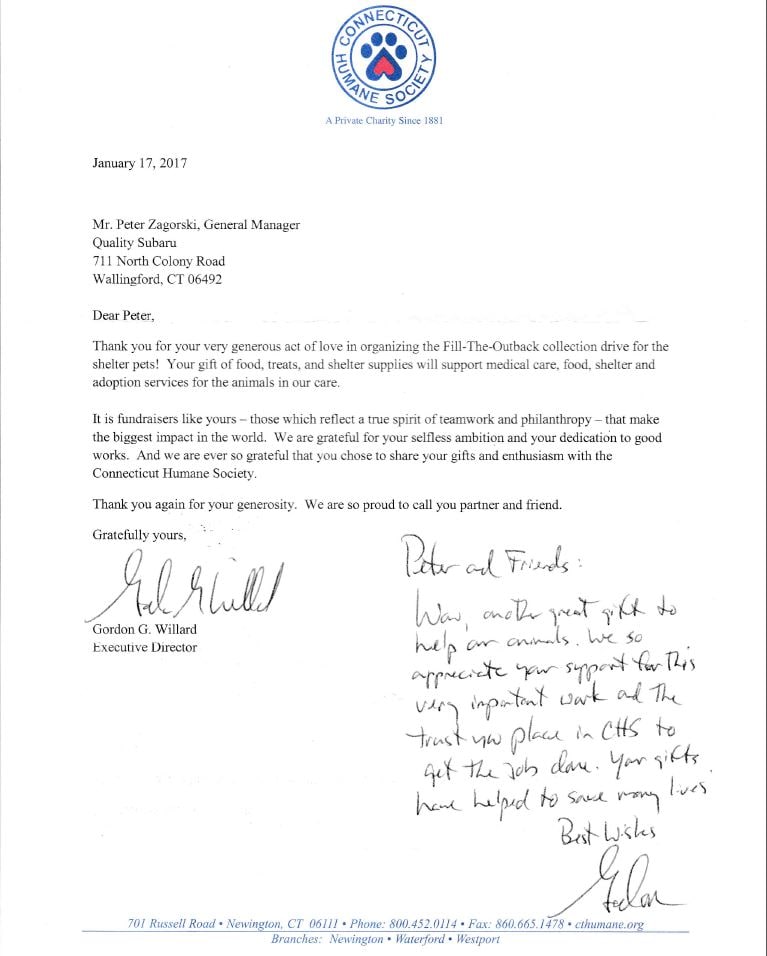 Quality Subaru continues their partnership with the Connecticut Humane Society for the 3rd year in a rowFill The Outback was an amazing success. Quality Subaru is proud to present their donations to the Connecticut Humane Society.

Items such as cat treats, animal toys, cat litter and litter boxes were donated by our customers and presented to the Connecticut Humane Society.

Visit the Connecticut Humane Society today to find your new best friend!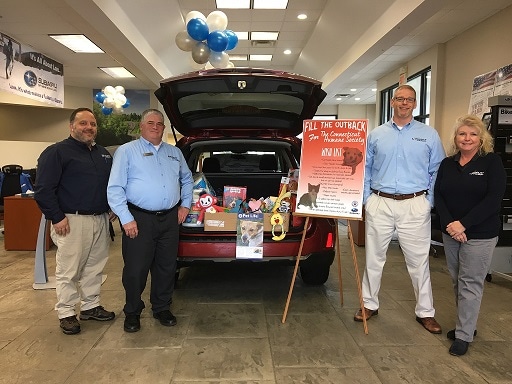 ---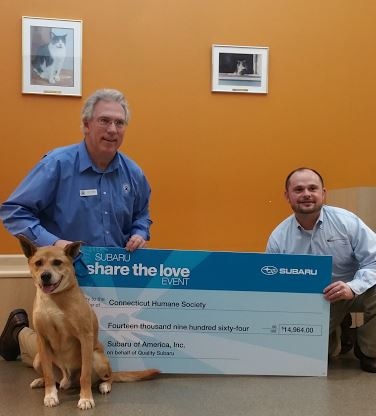 HUGE "Thank You" from Quality Subaru to 
all of our customers who helped make this happen! 
We have raised and donated $14,964 to the CT Humane Society - Newington, CT!
We are looking forward to more upcoming events to benefit our CT Humane Society!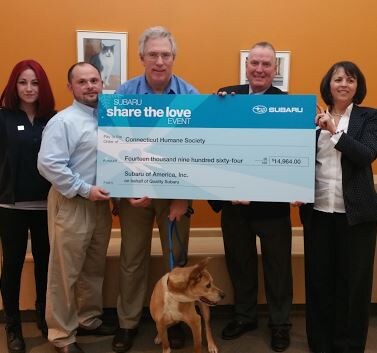 This is Gordon Willard - Executive Director of the CT Humane Society
Peter Zagorski - General Manager here at Quality Subaru
and Bizz - an adorable adoptable pet at the CT Humane Society! 
You can always check their website for current adoptable pets, 
ways to help, ways to donate, and more! 
Showroom Hours
Monday

9:00AM-7:30PM

Tuesday

9:00AM-7:30PM

Wednesday

9:00AM-7:30PM

Thursday

9:00AM-7:30PM

Friday

9:00AM-5:30PM

Saturday

9:00AM-5:30PM

Sunday

Closed
Directions
Get Directions