The 2021 Subaru Love Promise Customer and Community Commitment Award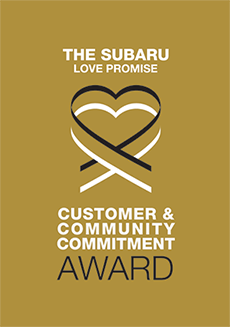 We've been nationally recognized for our dedication to our customers, our community, and the Subaru Love Promise.
We're honored to receive the 2021 Subaru Love Promise Customer and Community Commitment Award. This award nationally recognizes elite Subaru retailers who provide an exceptional customer experience at every interaction with Subaru. These retailers have also demonstrated an outstanding commitment to supporting passions and causes in their local communities in important areas such as the environment, community, health, education, and pets.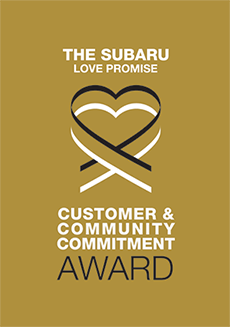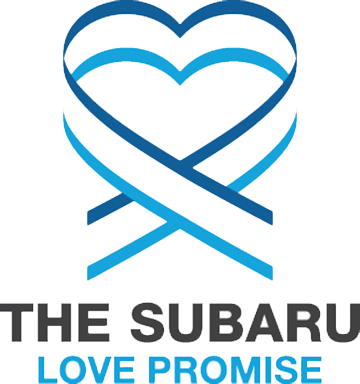 What is the Subaru Love Promise?
Subaru and our retailers believe in making the world a better place and the Subaru Love Promise is our vision of respecting all people. This is our commitment to show love and respect to our customers and to work to make a positive impact in the world.
How is Quality Subaru dedicated locally to the Love Promise?
Our Love Promise can be seen in various partnerships with local charities and non-profits. We're grateful for the opportunity, not only to be a part of our community, but to serve it as well.
CONNECTICUT HUMANE SOCIETY
JAMES MORAN MIDDLE SCHOOL
BRIAN ASH MEM FIRE PREV FUND
Love Promise Stories from Quality Subaru
Subaru and Quality Subaru believe in making a positive impact on the communities in which we live and work. We uphold that belief through our Love Promise Community Commitment. Every month, we select inspiring stories from customers and partners from around our area who strive to support our collective commitment and feature them here
Share the love - Kim S
CT Make a wish and Quality Subaru teamed up once again to raise $11075 for the organization. Vada and her new puppy Penny came to help us present the check! Thank you all for your generosity once again this year!
---
Ct Humane Society and Quality Subaru - Priscilla C
Quality Subaru and the Ct Humane Society once again teamed up for the Share the Love event. Quality Subaru and their customers raised $12950 to help our two and four legged friends! Thank you everyone for helping this be another successful year!
---
Quality Subaru Donates 380lbs of food - Sue H
Quality Subaru along with its customers, teamed up with Masters Manna for a food drive. There was 380lbs of food that was donated. This helped fill depleted supplies. Thank you all for the donations!
---
Quality Subaru Shatters last years Record!! - Sue H
Quality Subaru once again teamed up with Top Notch Cleaners and Masters Manna for a winter clothing drive. Last year the total weight of the clothes was 1400lbs. This Year that record was shattered with a total of 3054lbs!!!! That was 4 truckloads, plus an Outback, Ascent and Forester filled to capacity. We would like to thank everyone that donated this year! Looking forward to breaking the record next year!!!!
---
Quality Subaru donates 80 blankets to shelter - Sheree D
Quality Subaru donated 80 blankets, to the Wallingford Emergency shelter. This shelter was recently taken over by the Columbus House. These blankets will go a long way in helping those less fortunate stay warm during the upcoming winter. Thank you all who participated
---
Quality Subaru teams up with Save the Sound - Annalisa P
Quality Subaru employees teamed up with Save The Sound Volunteers to clean trash from the Quinnipiac Linear Trail. On a beautiful Saturday morning on November 7th, they were able to pick 7 extra large bags of garbage. Thank you everyone for your participation! We look forward to doing it again next year.
---
Quality Subaru visits Wallingford Animal Control - Katie E
Kelly, and Ann took time out of their busy work day to visit some friends at the Wallingford Animal Control Shelter. It was National "Make a dogs day" on October 22nd. Thanks for letting us visit!!!!
---
Save the Sound & Quality Subaru Clean Up! - Annalisa P
The save the the sound organization volunteers, along with Quality Subaru friends and family, helped clean up the the North Haven Tidal Marsh Trail. We had a turn out of about 20 people! Everyone worked hard and collected over 300lbs of garbage. It was a great team effort and we look forward to doing it again next year!
---
Bringing Warmth and Love to the Cancer Patients! - Daniela V
Quality Subaru and The CTWHV Chapter of the Leukemia & Lymphoma Society (LLS) have partnered to make a difference in the lives of people battling cancer in the Meriden community. The partnership called Subaru Loves to Care provides warm blankets and loving messages of hope and inspiration written by Subaru customers to patients fighting cancer at Midstate Medical Center. HUGE Thank you to Quality Subaru for donating 80 beautiful blankets to Midstate Medical Center to spread warmth to their patients. Patients are in the infusion center for hours at a time and these blankets keep them warm as they are going through treatments. On behalf of LLS and everyone fighting or in remission from cancer and the people who love them, huge and heartfelt thanks to Quality Subaru and the entire Quality Subaru family for joining the LLS mission to create a world without blood cancer.
---
Quality Subaru & CT Humane Society partner again - Barbara N
Quality Subaru along with Subaru of America presented the Ct Humane with a check for $19,163 from the 2018 Share the Love program. This is the fourth year of this partnership and we have raised a total of over $60,000 during this period. Thank you to all of our customers who helped us achieve our goal!
---
Quality Subaru Stands Up for CT Pets in Need - Kerry G
Quality Subaru's loyal partnership with the Connecticut Humane Society (CHS) is the reason thousands of pets in need find a fresh start. Pets like Brooklyn. The 4-year-old pit bull/boxer mix was so skinny, every bone in her back stuck out. She had bald spots. She was afraid to be pet. An animal control officer had found her roaming outside and brought her to CHS. But she was safe now and would get everything she needed—because Quality Subaru cares about innocent pets like her. CHS' medical team helped Brooklyn safely put on weight and treated her for skin and ear infections. She started to show her personality and ask for attention. When she was ready for adoption, a family fell in love with Brooklyn (who they nicknamed Brooke) and couldn't wait to spoil her. They say, "We're so lucky to have her and she's settling in here perfectly. We love her more and more every day if that's even possible."
---
Quality Subaru breaks coat donation record! - Jean G
For the second year in a row Quality, Subaru and Top Notch Cleaners teamed up to sponsor a coat drive for Masters Manna food pantry and resource center. The outpouring of generosity this year showcased the true spirit of people getting together to help those less fortunate. Over the course of two months, donations of coats, sweaters, and other winter items poured in. Quality Subaru customers and employees donated items and time in helping box up all that came in. Top Notch Cleaners brought coats from customers that had donated at their 3 locations. Thank you Kevin owner of Top Notch Cleaners for all of your help!!! When it was all said and done 1458lbs of winter items were weighed in at the Masters Manna resource center!! Jean Giglio donations manager said, "we are overwhelmed by the generosity of everyone that donated". Quality Subaru would like to thank everyone that donated and we are looking forward to beating the record next year!
---
Quality Subaru & Animal Haven Team Up - Alexis P
Quality Subaru and Animal Haven of New Haven in getting food and toy donations for our furry friends. The Animal Haven is a 501(c)(3) charitable organization whose mission since 1948 is to provide a temporary, safe, caring and humane refuge for homeless, adoptable cats and dogs and to subsequently place these animals in quality, adoptive and permanent homes. The Animal Haven advocates responsible pet ownership, follows a mandatory spay-neuter policy, prohibits euthanizing its animals, except when euthanasia is in the best interests of a sick and/or dying animal, advised to be necessary by a licensed veterinarian and/or required by law, and works in the community to fight animal cruelty through education. The Animal Haven enlists and promotes public involvement in the humane treatment of animals and is committed to principles of justice and compassion for animals.
---
Quality Subaru & James Moran School - Kim M
For the second year in a row Quality Subaru partnered with James Moran Middle school in Wallingford to donate over 150 books to the students at the school. Teacher Kim Musket and her students helped select many of the titles like "How To Tame A Fox", and "Darwin's Backyard. These books were all science-themed and encourage the kids to come together and discuss things like climate change and endangered species. We hope everyone enjoys these books and learns how to better our planet.
---
Quality Subaru Love Promise Drop Off - Stephen M
It was an honor and privilege to make my first Subaru Love Promise visit. To this point, I had not yet seen it in action or met with the folks involved. Everyone involved was filled with an exuberance and appreciation. The medical staff was thrilled to accept the blankets and cards, while the representatives from Subaru were appreciative of the opportunity to make this difference. We posed for a quick picture in front of their gorgeous waterfall in the lobby area. This was my first opportunity to see the blankets as well, which were gorgeous. Jack Blanchard from Subaru was great to meet and offered his business card, and this was a textbook example of everything this campaign aims to accomplish: A compassionate delivery.
---
Quality Subaru and Midsate Med Center - Erin S
On July 6th, 2018, Quality Subaru together with the Leukemia Lymphoma Society delivered 84 blankets along with message cards of hope filled out by customers an sales people to Midstate Medical's cancer center. The blankets help keep patients warm while they undergo therapy, and also let them know that someone is thinking of them while the courageously battle this disease. Quality Subaru is proud to once again partner with LLS and Midstate on this project.
---
Quality Subaru & Ct Humane Society partner again - Barbara N
Quality Subaru along with Subaru of America presented the Ct Humane with a check for $16,391 from the 2017 Share the Love program. This is the third year of this partnership and we have raised a total of over $42,000 during this period. We have made many friends along the way, both 4 legged and 2 legged, and we look forward to continuing our partnership in the future.
---
Quality Subaru donates 162 jackets - Gail P
During the month of January, Quality Subaru collected 162 coats filling up the back of a Subaru Forester. These coats were presented to Master's Manna Inc just in time as they were down to only 4 coats on the racks. Master's Manna Inc helps homeless and low to moderate income families and individuals obtain essential needs. They have a full food pantry, family dining center with freshly prepared meals daily, a market full of clothing and various items for adults and children and laundry and shower. Thank you Master's Manna for partnering with us along with the help of Quality Subaru employees, customers. A big shout out to Topnotch Cleaners in Wallingford for donating 4 bags of various coats, hats and gloves. Shown below are Jack Blanchard Customer Relations Manager, Ann Brooks BDC Representative of Quality Subaru Sean Marshall Warehouse Manager and Jean Giglio Donations Manager of Master's Manna Inc.
---
Quality Subaru & James Moran School - Peter Z
Quality Subaru partnered with the James Moran Middle School in the Subaru Loves to Learn Event. School librarian Kim Musket and her students were overjoyed to receive the many new science books for the library. Many of the books that were delivered were on the list of best science books as voted by the American Association for the Advancement of Science(AAAS). We hope the students get to try out the many fun experiments that are in the books!
---
Love Promise Delivery - Daniela H
On July 5, 2017 LLS staff member Daniela Hincapie met with Customer Relations Manager Jack Blanchard and his team from Quality Subaru (Wallingford, CT), to deliver 12 craft kits, 80 blankets and messages of hope, to Midstate Medical Center. We were greeted by Erin Stocking and a few other of the staff at the facility who were very grateful for the donation to their patients. The blankets provide much needed support and "warmth" to patients fighting cancer. Erin and her team were grateful of the gift from Quality Subaru and could not wait to give the amazing blankets and cards of hope to their patients.
---
414 LBS of food donated to Master's Mana - peter z
Quality Subaru held a food drive from June 1st- July15th. We asked for food donations for Masters Mana a local food pantry located in Wallingford Ct. They help supplement low income families in our area with food, clothing and even furniture. Quality Subaru's customers and employees all chipped in and filled an entire Outback with non perishable food items totaling 414Lbs!! We had a great time doing it and look forward to doing another drive soon!
---
Quality Subaru Fill The Outback - Ct Humane s
Quality Subaru partnered with the CT Humane Society to fill an Outback with items needed to help with daily operations. Employees and customers donated various items and Quality Subaru donated an item for every car sold. We had a great turnout and filled the entire trunk of the Outback!
---
Local Subaru provides "warmth" to cancer patients - Courtney R
The Leukemia & Lymphoma Society teamed up with Subaru of America, Inc. for their Subaru Loves to Care initiative, delivering messages of hope and blankets to cancer patients in our community. Quality Subaru donated 60 blankets to provide much needed support and "warmth" to patients fighting cancer at MidState Medical Center. They were thrilled to be the recipient of the Care Package donation, and it was so uplifting to see their genuine appreciation when we delivered the Care Packages. A huge thank you to Quality Subaru for making this incredible impact in their local community!
---
Supporting Wallingford Public Schools - Linda R
Quality Subaru donated to the "Wallingford Education Foundation Fifth Annual Adult Spelling Bee" held at Moran Middle School on Friday, February 20th, 2015. The evening was extremely enjoyable and successful!
---
Share The Love With the CT Humane Society - Alicia W
We partnered with the CT Humane Society during our annual "Share The Love" Sales Event, and raised $14,964! Thank you to all of our customers for helping to raise money and awareness for the CT Humane Society and animals in need.
---