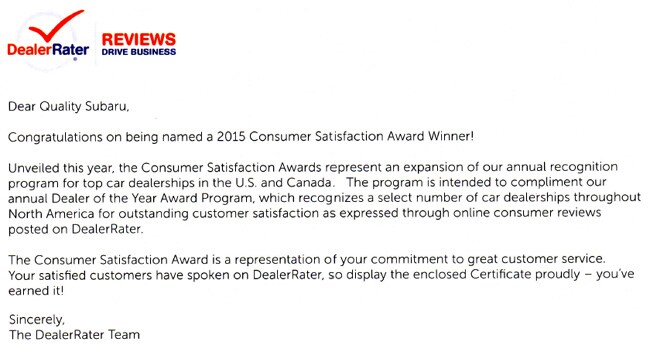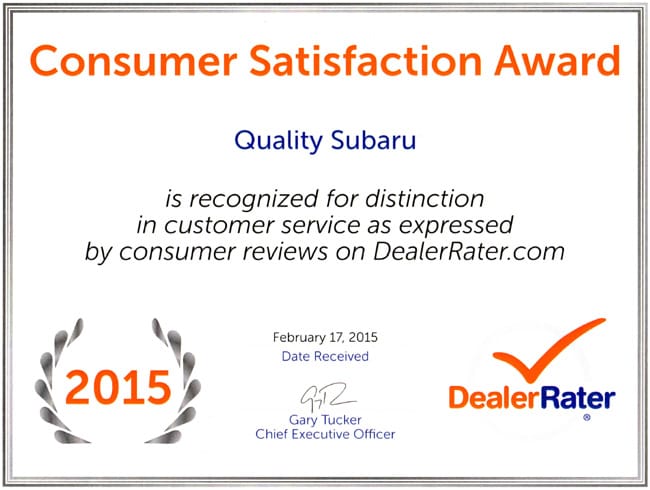 Quality Subaru Awarded as a 2014 DealerRater® Dealer of the Year in Connecticut Subaru Dealers!

DealerRater Honors
Quality Subaru
for Outstanding Customer Satisfaction Based on Customers' Online Reviews Posted on DealerRater Web Site.
DealerRater, the world's premier car dealer review web site, recently announced Quality Subaru as a winner of the 2014 Dealer of the Year Award Program.   The DealerRater Dealer of the Year Award Program recognizes a select number of car dealerships throughout the United States and Canada for outstanding customer satisfaction as expressed through customers' online reviews posted on DealerRater.
"We congratulate Quality Subaru for achieving this distinction for customer satisfaction amongst Subaru dealers across Connecticut and look forward to their continued success through unparalleled customer service," said Chip Grueter, president of DealerRater.  "It was a tight competition among many outstanding dealers throughout Connecticut and Quality Subaru should be proud of this accomplishment."
Quality Subaru has demonstrated consistently high PowerScore? ratings for customer satisfaction, placing them in the top of their class.  The PowerScore is determined using a Bayesian algorithm that factors the dealership's average DealerRater consumer rating and the total number of reviews written about the dealership during the 2013 calendar year.
About DealerRater
DealerRater was founded in 2002 as the first car dealer review website worldwide.  DealerRater is the world's #1 online resource for anyone seeking trusted third-party information on automobile dealerships.   DealerRater features nearly 41,000 U.S. and Canadian car dealers, more than 1,200,000 consumer reviews and over 1 million cars for sale.  DealerRater attracts more than 9.5 million consumers every year who visit the site to search for car dealerships, read reviews, write their own descriptive reviews, and find car deals - all for free.